Accessories
Hayman Reese

Accessories include brake controllers, power harnesses, towballs, trailer ball mounts, pintle hooks & mounts, hitch pins, battery monitors and wiring looms. Hayman Reese is also leading the way in vehicle-to-trailer wiring applications. Their SmartClick™ connecting wiring add-on's.

Camec
Camec import and distribute many leading products to the RV and marine industries, and have built many strong and lasting relationships with suppliers around the world. They are undoubtedly the largest supplier of RV and caravan components to all segments throughout Australia and New Zealand.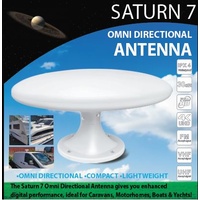 Looking for a quality caravan, motorhome or Boat TV Antenna that's made in Australia, then you have come to the right place, Saturn Antennas have the Best Brands at the Best Prices. Saturn TV Antennas are known for manufacturing the highest quality Marine and RV TV Antennas for use in your Caravan.
Cruisemaster™ range of independent arm suspension systems are iconic in the market, the XT model largely being responsible for the emergence of independent arm suspension as the preferred choice for all-terrain application. Since the 1st XT suspension rolled off the production lines in 2005 Cruisemaster's™ continuous improvement philosophy has led to an extended range of Cruisemaster™ suspensions
Dometic provides products and solutions for use in recreational vehicles, pleasure boats, workboats, trucks, premium cars, outdoor activities as well as for home and professional use. Dometic is organised in four Segments: Segments Americas, EMEA, APAC and Global. Segment Global consist of sub-segment Marine and sub-segment Other Global Verticals.
AKLO

ALKO are one of the leading global axle suppliers in the lightweight weight range. Caravans, Boat trailers, delivery vehicles, slope maintenance vehicles and many more. You can trust ALKO with your loads. We provide the vehicle components and the accessories – the best basis for your tasks. The Capricorn Caravan Centre is the only licensed installer in Rockhampton for Alko ESC (electronic stability control).
  Coast to Coast Provides a large range of Caravaning products. Premium quality Parts to get you and your Caravaning the best adventure possible.